Besides Christine C. Weiner, Esq. the firm's founder, other team members assist current clients and prospective clients in the following ways:
Trust Administration/Post Mortem Matters
Your Corporate Counsel
Jacquelyn Weiner
Jacquelyn Weiner spearheads trust administration and manages post mortem matters for clients of the firm. She also helps small to medium-sized businesses keep up-to-date with their corporate compliance requirements.
Jacquelyn L. Weiner completed her Paralegal Certificate program at University of California, Irvine, in 2009. She also has a Bachelor of Arts degree from University of Redlands, with a double major in International Relations and French.
Jacquelyn serves our Irvine, CA office and may be contacted via email at [email protected].
Client Relationship Manager/Administrative Assistant
Allison Weiner
Allison wears two rather large hats at the firm—Client Relationship Manager and Administrative Assistant. She is responsible for maintaining strong relationships with existing clients; fostering relationships with new clients by scheduling appointments and completing the necessary intake documents; keeping the Palm Desert office humming at peak efficiency; assisting with the firm's marketing and community outreach efforts; and managing the firm's Internet vendors.
Whew.
Allison is able to handle all of this with aplomb thanks to her 30-plus years of experience in customer service, high-energy persona, and outgoing nature.
Born in Chicago, Illinois, Allison grew up in Orange County and earned her GED from Capistrano Valley High School. She resided in Orange County/Los Angeles for 36 years before moving to Nevada City, where she lived for five years. Allison is now happy to call La Quinta home.
In her free time, Allison enjoys movies, music, and taking advantage of La Quinta's many opportunities to swim, play tennis, and go for long walks.
Office Location:
Hover over the map location and click the 'View larger map' link for directions.
Dana Point Office
24111 Tiburon
Dana Point, CA 92629
Tel: (949) 300-7800
---
Transfer Documents Using WeTransfer
WeTransfer gives our clients the ability to share files of almost any format. It's simple, secure and free of charge. Click the button below to transfer your files to our office.
How to Transfer Files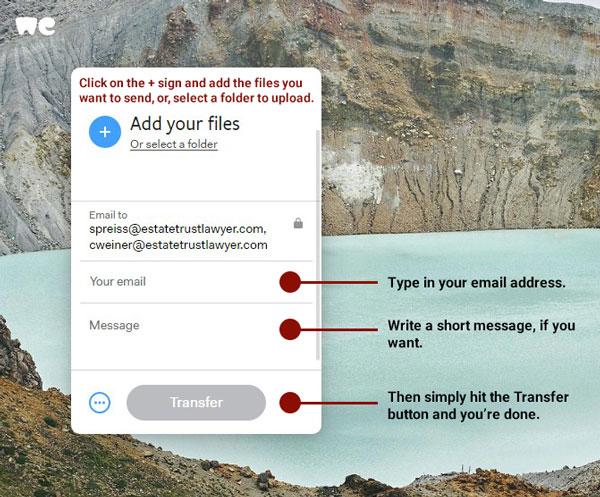 Click on the + sign and add the files you want to send, or, select a folder to upload.
Type in your email address.
Write a short message, if you want.
Then simply hit the Transfer button and you're done.
If you have any questions about WeTransfer, please feel free to call our office at (760) 341-4500 or email us at [email protected].