Why You Should Include Your Pets in Your Estate Planning
People may have laughed at Leona Helmsley, and more recently Joan Rivers, for setting up her dogs to live the (very) good life without her. But the fact is, including furry family members in estate plans is on the rise: a good thing, given an estimated 100,000 to 500,000 animals arrive at shelters each year simply because their owners died or became incapacitated—with no pet plan in place.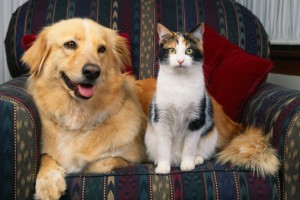 If you don't want to risk family and friends reneging on verbal agreements or the state deciding your pets' fate if the unexpected happens to you, take steps now to protect their future. It will give you peace of mind and guarantee your loyal companions live out their lives as happy as possible.
Here is some quick info to get you started . . .
How to Protect Your Pet
The best way to protect your pet is to have a written agreement in place so all parties involved are informed, committed and prepared to step up—to have your pet's back either temporarily or permanently when you can't. A will and/or trust is a great way to guarantee your wishes for your animals are carried out.
While there are many types of wills and trusts, the following provides a basic overview:
Wills. A will instructs how to disburse your property upon your death. While a will can name the new owner of your pet, it cannot specify how your pet should be cared for.
Traditional pet trust. With this kind of trust, you can specify exactly how you want your pet cared for and how the money that funds the trust will be managed and used.
Statutory pet trust. This kind of trust is simpler than a traditional pet trust and gives caretakers broad discretion regarding pet care and trust money usage.
Things to Help You Think It Through
Now, put the ball in motion by doing a little homework to uncover your resources and better understand your options. For example:
• Identify your pet's caregivers. Talk to friends and family upfront about who will care for your pet and under what conditions—short-term, long-term, permanent, or until your pet can be adopted into a loving home. If you have more than one pet, you may want someone who is willing to keep your animals together.
• Discuss your pet's needs. This will alert caregivers to any daily routines or health issues that will help your pet transition and remain healthy and happy. Provide your pet's records. Share plans and contact information with multiple people, so they know who needs to be involved if you become ill or incapacitated.
• Talk compensation for pet expenses. To prevent any financial burden for caregivers, consider setting up a joint checking account with a small balance, or specifying in your will or trust that a certain dollar amount be given immediately to the individual(s) if something happens to you.
• Check out retirement pet homes or sanctuaries. If your pet could end up at a pet facility, visit those that seem like a good fit. Ask what their policies are for adoption and inquire about expenses so you can plan to pay them for your pet's care.
• Read. Educate yourself about pet trusts and options for continued pet care, to prepare for a conversation with your advisor.
Making the Plan
There's power in pet estate planning—not to mention love that extends beyond your lifetime and sees your animal companion through its own. Your estate planning attorney can help you design the right plan for your pet's future and ensure any money left to caregivers is used appropriately. While you may not have millions like Leona or Joan, you can still set up your pet to live the good life all the rest of its days.